Following the unexpected loss of its headline sponsor, the Directors of London United have taken the decision to withdraw from the BBL for the 2007/08 season after just one year in the top flight of British Basketball. However, whilst acknowledging that this is a major set-back, the club's directors are upbeat about the future of the Shoreditch-based outfit.
Operations Director, Chris Morris speaking on behalf of the Club's 4 Directors (Dave Schiller, Jack Majewski and Tony Garbelotto) said:
"This is a major disappointment. In our debut season we were without question the smallest outfit in the BBL in terms of finance and personnel. However, we punched well above our weight, qualified for the play-offs and were competitive throughout the season. In fact, we made arguably the best on-court debut of any first year club in the history of the BBL. We knew things wouldn't be easy but took the decision to make the leap to the top flight to make certain that London had a pro-basketball team following the demise of London Towers.
We were left in a very difficult position following the loss of our headline sponsors who were themselves subject to major cut-backs in their marketing budget.This left us with comparatively little time to secure a replacement deal. August is possibly the worst month for trying to turn this scenario around as most decision makers at potential corporate sponsors are on holiday.
This is even more frustrating given that in so many ways we were (and are) in much better shape going into our second season than in our first. Not only did we all have a year's invaluable experience under our belts we had an excellent kit deal with Kukri Sports including a fantastic range of merchandise and an on-line shop. Kukri were also supplying their Kukri All- Stars professional dance team to perform for all our home matches greatly enhancing our match-day entertainments package. Our public relations and marketing partners Early Doors secured us excellent local and National TV, press and radio coverage last season, produced and managed a detailed data-base of our supporters, helped us to re-brand and had produced a direct marketing campaign to communicate successfully with our fans and boost our home attendance. The Hackney Gazette provided us with great match -day coverage and provided us with massive local press exposure.
Likewise, our community programme is continually expanding throughout the 5 London Olympic Boroughs (our BBL franchise area) and we had secured a permanent and cost-free quality training venue at Eltham Green School in Greenwich. All of this gave (and gives) us a solid foundation going forward.
But all of this has to be underpinned by hard cash. We took the decision to withdraw and are fully committed to regrouping and we are doing everything we can to be ready to re-enter the BBL in 2008/09 in really good shape. Kukri and Early Doors remain fully behind us. Plus we are continuing to work with the team at Think London (the body set up to attract major investment to London on the back of the 2012 Olympics) to secure a long term and sustainable partner. Brendan Dineen, (Think London's 2012 Olympic Director) is absolutely certain that we have a product highly attractive to potential sponsors and that we will find a long term and sustainable backer within the next year.
We fully understand how tough it can be to get a pro club up and running in London. London has a number of inherent problems not least of which is a lack of suitable venues. This situation isn't going to change in the run up to 2012 and we are left with just a few suitable and affordable venues like SPACe with spectator capacities of under 1000 and invariable owned and run by the education sector, itself hard pressed for cash and without real expertise in supporting the organisational and commercial needs of professional sport. Despite being arguably London's top basketball venue in terms of participation (and with the best court in the BBL in playing terms) our home venue last season, SPACe has inherent design and management problems that make if very difficult to maximise match-day commercial revenue. On top of this, the cost of housing players in London is considerably higher than elsewhere, as is the cost of living in general. Despite this it is possible to run a successfully pro-basketball team on a yearly budget equivalent to less than 2 weeks salary for a decent Premier League footballer. In the context of professional sport, this represents an absolute bargain and a major opportunity for a potential backer. We know that backers exist in one of the richest cities in the world and we are certain given time we will find them.
We know that withdrawing from the BBL is far from risk-free. It is no longer possible to "park" a franchise and automatically re-activate it in later seasons. But we have an excellent and supportive relationship with all the other BBL Club Directors and Andy Webb (Chief Operating Officer).They have all been extremely understanding as we've worked to turn our situation around. It's now our job to secure investment, to produce a water-tight business plan that can fully demonstrate our capability to create a sustainable professional club and grow the business year-on-year. We are all confident that this can be done and hope we will receive a sympathetic hearing from the BBL Board (made up of the Club Directors) as we look to rejoin in the 08/09 season.But nothing can be taken for granted. If we don't do this, we can't expect to be re-admitted.
The BBL is undoubtedly on the up. More clubs are joining, all clubs have growing community and Academy programmes. Guildford Heat are leading the way in Europe fully backed by the BBL and with more clubs to follow in the FIBA and ULEB European Club competitions in future seasons. Our Head Coach Tony Garbelotto has been instrumental in the success of the GB Senior Men's team as they look to progress to the European A Division as the future of British Basketball looks brighter with the BBL playing a major part.
We wish all the clubs in the BBL well for the coming season and are fully behind London Capital as they carry the torch for London in 07/08. London remains the UK's major power-house in terms of producing players and developing talent. Just about every club in the BBL has at least one Londoner in it's line-up. It's our duty to make sure London has successful pro-clubs that provide a quality outlet for that talent.
Finally, we would also like to thank all our backers, volunteers, players and supporters and hope to be back in the BBL 08/09. This has been an incredibly difficult time for all of us involved with London United. We know that we will be heavily criticised by some quarters of the UK Basketball Community for this decision and that our management of London United will come under scrutiny. We are ready for this and are optimistic about the future. We are withdrawing now to secure a better long-term future As the saying goes, "sometimes you have to lose the battle to win the war!"
For further information, contact Chris Morris at [email protected] or call him on 07786-485223
Chris Morris
Operations Director - London United Basketball
3/9/07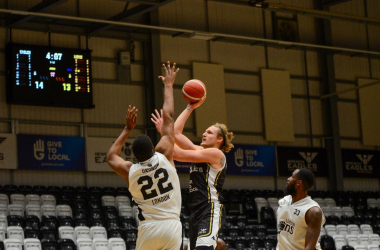 Welcome to the Official London United websiteLONDON UNITED BASKETBALL CLUB
Website content copyright of London United Basketball Club, 2006-07. Website design copyright of WebElementary 2006-07